CNY Promotion 新年超大福利!
新年快到啦! 又到了买美美的衣服的季节! 出了美美的衣服,美美的内在美一样重要哦!
小仙女就是要从内美到外! 好的内衣能够承托出好看的胸型!让你的颜值⬆️⬆️⬆️
福利1⃣ / Promotion 1⃣
新上架的新春款本命红内衣来咯! 红彤彤 帮你转运 招好运!!
Chinese New Year Must Buy Collection Launched! Red Lingerie for your CNY!
https://elodielingerie.com/collections/cny-must-buy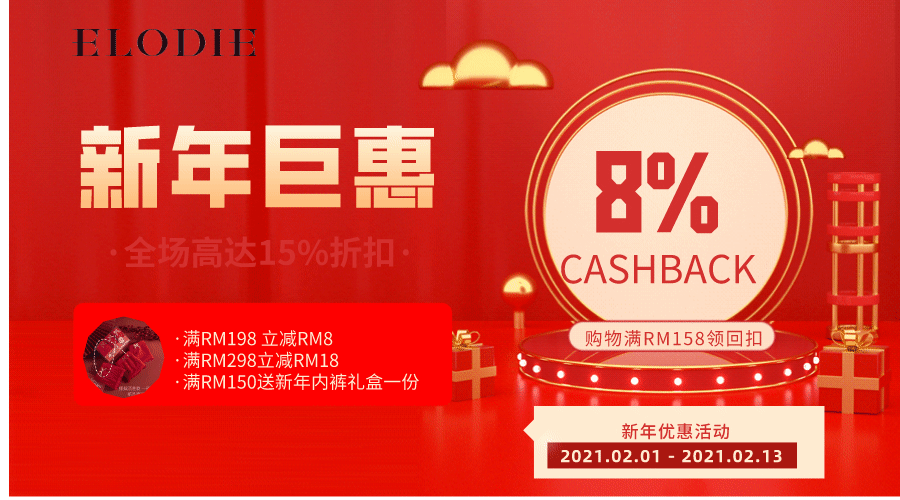 福利2⃣ / Promotion 2⃣
Spend RM150 Get Free Panty Set
🈵️RM150 送超值内裤礼盒一套
Spend RM200 Get Free Bra
🈵️RM200 送超值内裤礼盒一套
福利3⃣ / Promotion 3⃣
新年领红包啦🧧!Elodie 家送红包啦! 满额直接扣!
单笔订单🈵️RM198 立减 RM8
单笔订单🈵️RM298 立减 RM18
(CNY Red AngPao🧧)
RM8 OFF when Purchase RM198
RM18 OFF when Purchase RM298
福利4⃣ / Promotion 4⃣
满RM158可以获得8%的回扣哦!返利会直接存进小仙女们在我们网站注册的户口!

返利可在下次购物中抵扣使用哦!
🌹Purchase above RM158 able to get 8% cash-back.

The credit will automatically save into your register account on ELODIE's website.

For next time purchase, the credit can use to get the discount.



**新年优惠只限注册会员哦
**CNY Promo only available for log in member
更多网站宠粉福利!Other Promotion⬇️⬇️⬇️